One-Stop Stand-Down Shop
In order to make participating in the Stand-Down as easy as possible, we've gathered some of our top resources in one location.  Everything you need to conduct a stand-down is below – whether it's for one day or the whole week.
Promotional Materials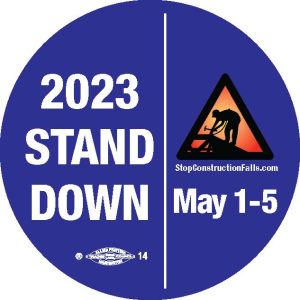 2023 Stand-Down Poster – English, Español
2022 Stand-Down Plan – English, Español (2023 resources coming soon)
2022 Social Media Resources -Bilingual in English and Spanish (2023 resources coming soon)
Job Site Planning Materials
Written Fall Protection & Rescue Plan – Developing and implementing a detailed fall protection plan is essential to protect all workers at risk for a fall. Click here to use our generic template in English or Spanish.
Small Contractors: Plan. Provide. Train– A section with easy to use resources and tips for smaller contractors, in English and Spanish.
Handouts for Workers
Hardhat Stickers – Order here
Hazard Alert Cards –  Short handouts can be printed as PDFs or ordered online.
Other Handouts
Training Materials & Activities
Toolbox Talks – Download toolbox talks and checklists for fall safety
Videos & On-Demand Webinars – Great for a virtual stand-down, this list includes pre-recorded webinars from CPWR and brand new videos from NIOSH. We also have a complete Fall Hazards & Prevention playlist on YouTube.
Spot The Hazard Activity

Additional Training Guides and Activities
Signage for the Job Site
CPWR-NIOSH Infographics: In addition to the posters OSHA has created, the NIOSH-CPWR co-branded infographics can be blown up and posted in order to draw awareness to a number of fall-related issues.
Virtual Participation
Videos & On-Demand Webinars – including short clips for phone viewing and upcoming webinars!
Research
Data Bulletin: OSHA Inspections and Citations for Fall Protection in Construction and the Impact of COVID-19
Data Bulletin: Fatal Injury Trends in the Construction Industry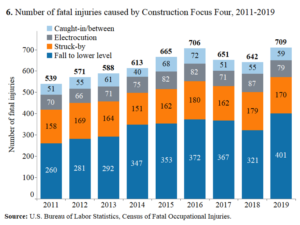 Data Bulletin: New Trends of Fatal Falls in the Construction Industry
Make the case for focusing on falls.