Interested in joining the Campaign? Learn how to Get Involved!
The Campaign to Prevent Falls in Construction began in 2012 with construction industry stakeholders seeking a way to raise awareness. Falls from heights are the leading cause of injuries and fatalities in construction, with those coming disproportionately from small residential construction contractors.
Falls kill – they are the top cause of construction fatalities and account for one-third of on-the-job injury deaths in the industry. Each year in the U.S. more than 200 construction workers are killed and over 10,000 are seriously injured by falls.
The goal of this national campaign is to prevent fatal falls from roofs, ladders, and scaffolds by encouraging residential construction contractors to:
• PLAN ahead to get the job done safely.
• PROVIDE the right equipment.
• TRAIN everyone to use the equipment safely.
Since the inception of the campaign, a new piece has been added: the National Safety Stand-Down.  For information about how to conduct a stand-down, check out the Stand-Down page.
Campaign Sites & Information
The 2021 Safety Stand-Down will take place May 3-7!
2021 OSHA Stand-Down Poster (English)
2021 OSHA Stand-Down Poster (Spanish)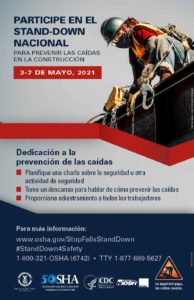 2020 Data Analysis of Stand-Down Participation based on Receipt of a Certificate of Participation: Factsheet and Full Report
Videos & Webinars
Including upcoming live events and on-demand webinars that are great for virtual Stand-Downs (the webinars include Q&A sessions that can be used to start a discussion about fall prevention and protection on your job sites).
Written Fall Protection & Rescue Plan – Our generic template is now available in Spanish!
Small Contractors: Plan. Provide. Train – A section with ea
sy to use resources and tips for smaller contractors, in English and Spanish.
Data Bulletin: New Trends of Fatal Falls in the Construction Industry
Make the case for focusing on falls.
Despite ongoing efforts by safety & health professionals and industry stakeholders to improve awareness and use of fall prevention and protection solutions, falls continue to be the leading cause of death in the construction industry. According to recent occupational data from the U.S. Bureau of Labor Statistics, 401 construction workers died from falls to a lower level in 2019. To better understand and prevent both fatal and non-fatal falls, more information is needed about their root causes.
So, we're asking you to tell us about a fall incident or incidents that you experienced, witnessed, or investigated.
CPWR worked closely with the ANSI Z359 National Work at Heights Task Force and the NORA Construction Sector Council Falls Work Group to develop the survey, which aims to fill in some of the gaps in information available on common underlying causes of falls from heights. We hope to better understand the needs of the industry and the intricacies of how different organizational, human, and physical factors can interact to cause a fall. For more information about the survey and its goals, you can view our on-demand webinar, Identifying Common Root Causes of Falls from Heights.
The survey is completely voluntary and anonymous. No attempt will be made to connect a response back to the individual. Click here to complete the survey as many times as you'd like. The survey will remain open through Friday, May 14th, 2021.