Infographics & Tip Sheets
As part of the National Campaign to Prevent Construction Falls, OSHA, NIOSH, and CPWR worked together to develop a new series of infographics both in English and Spanish. These infographics focus on preventing construction falls, the leading cause of fatalities in construction by raising awareness of the risk and providing steps to prevent falls – including a ladder safety app.
Download the infographics as PDFs or JPEGs for use as jobsite signage and in social media, presentations, and print materials.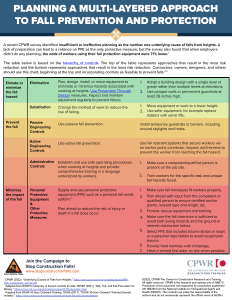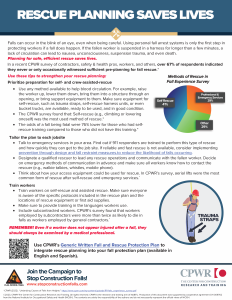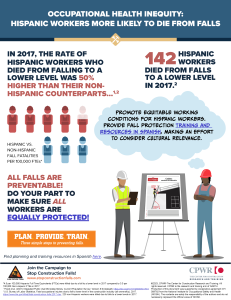 Planning a Multi-layered Approach to Fall Prevention and Protection – PNG, PDF
Rescue Planning Saves Lives – PNG, PDF
Occupational Health Inequity: Hispanic Workers More Likely to Die from Falls – PNG, PDF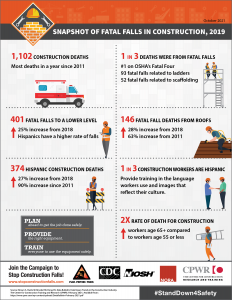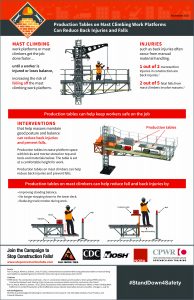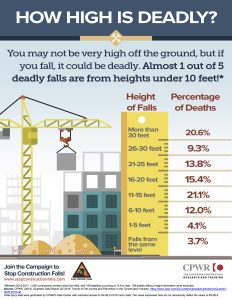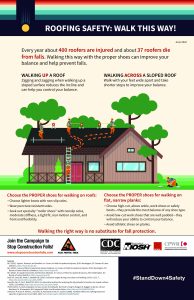 Snapshot of Fatal Falls in Construction, 2019 – JPEG, PDF; Panorama general de las caídas mortales en la construcción, 2019 – JPEG, PDF
Production Tables on Mast Climbing Work Platforms Can Reduce Back Injuries and Falls – JPEG, PDF; Las mesas para trabajar en las plataformas elevadoras sobre mástil pueden reducir las lesiones de espalda y las caídas – JPEG, PDF
Roofing Safety: Walk this Way – JPEG, PDF
How High is Deadly? – JPEG, PDF; ¿Qué altura es fatal? – JPEG, PDF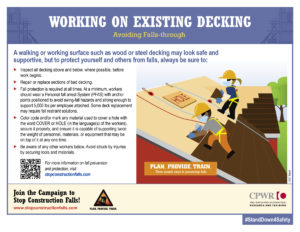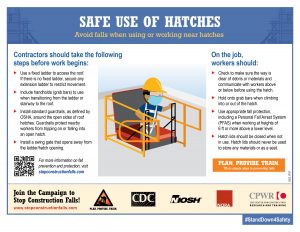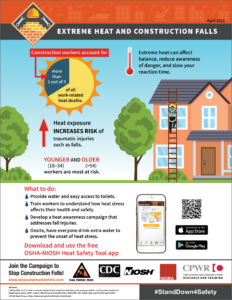 Working on Existing Decking – JPG, PDF; Trabajo sobre plataformas existentes – JPG, PDF
Safe Use of Hatches – JPG, PDF; Uso seguro de las escotillas – JPG, PDF
Extreme Heat and Construction Falls – JPG, PDF; El calor extremo y las caídas en la construcción – JPG, PDF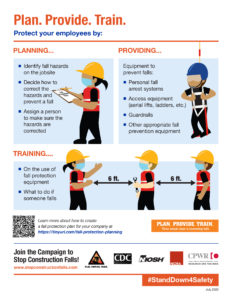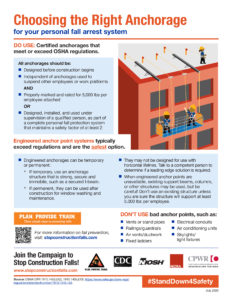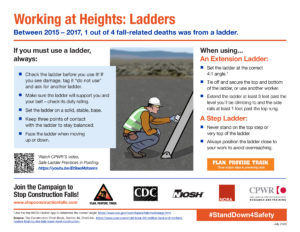 Plan. Provide. Train. – JPEG, PDF; Planifique. Proporcione. Adiestre. – JPEG, PDF
Choosing the Right Anchorage – JPEG, PDF; Escoja el anclaje adecuado – JPEG, PDF   
Working at Heights: Ladders – JPEG, PDF; Trabajar en alturas: Escaleras – JPEG, PDF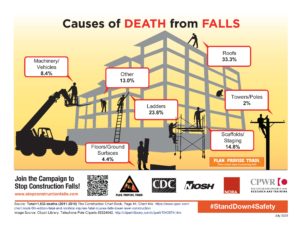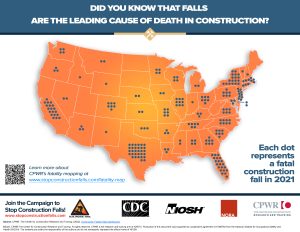 Causes of Death from Falls – JPEG, PDF; – Causas de muerte por caídas – JPEG, PDF 
Falls are the leading cause of death in construction – JPEG, PDF; Las caídas son la principal causa de muerte en la construcción – JPEG, PDF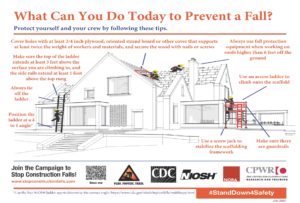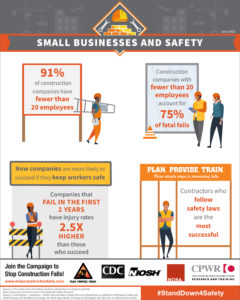 What Can You Do? – JPEG, PDF; ¿Qué puede hacer hoy para evitar una caída? – JPEG, PDF
Snapshot of Fatal Falls –JPEG, PDF; Panaroma general de las caídas mortales en la construcción – JPEG, PDF
Small Businesses and Safety –JPEG, PDF; Las empresas pequeñas y la seguridad – JPEG, PDF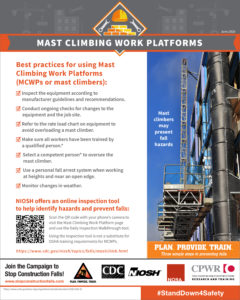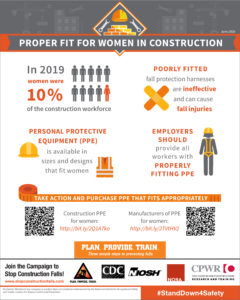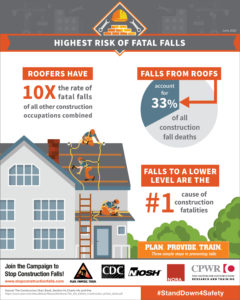 Mast Climbing Work Platforms – JPEG, PDF; Plataformas elevadores sobre mástil – JPEG, PDF
Proper Fit for Women in Construction – JPEG, PDF; Ajuste adecuado de equipo para las mujeres en la construcción – JPEG, PDF 
Highest Risk of Fatal Falls – JPEG, PDF; Riesgo más alto de caídas mortales – JPEG, PDF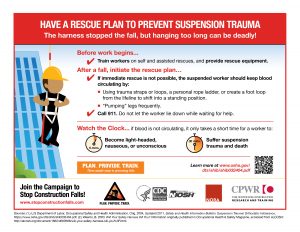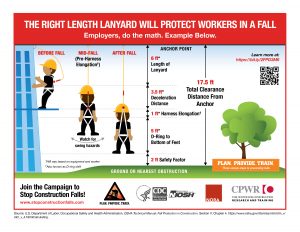 Have a Rescue Plan to Prevent Suspension Trauma – JPEG, PDF; Tenga un plan de rescate para prevenir los traumatismos si el trabajador queda suspendido – JPEG, PDF
The Right Length Lanyard  – JPEG, PDF; Una linea de seguridad de la longitud correcta protegerá a los trabajadores en una caída – JPEG, PDF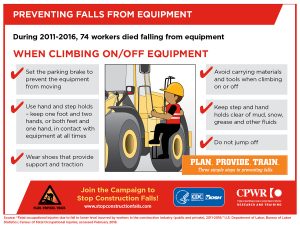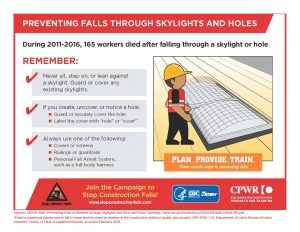 Climbing on/off Equipment – JPEG, PDF; Previendo caídas desde equipos de construcción – JPEG, PDF
Skylights and Holes – JPEG, PDF; Como prevenir las caídas por los tragaluces y agujeros – JPEG, PDF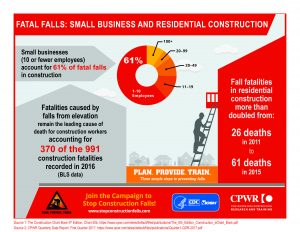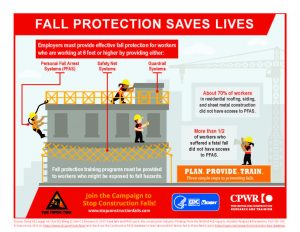 Small Businesses & Residential Construction – JPEG, PDF; Caídas mortales: Pequeñas empresas y obras de construcción residenciales – JPEG, PDF
Fall Protection Saves Lives – JPEG, PDF; El equipo de protección contra caídas salva vidas – JPEG, PDF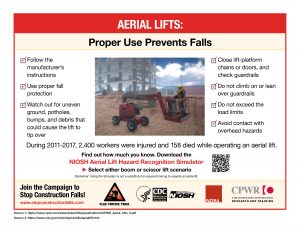 Aerial Lift (bucket) – JPEG, PDF; Plataforma aérea (cubo) – JPEG, PDF
Aerial Lift (scissor) – JPEG, PDF; Plataforma aérea (tijera) – JPEG, PDF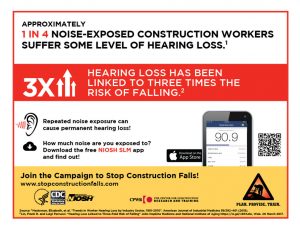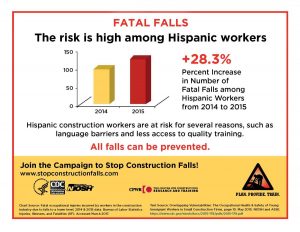 Noise – JPEG, PDF; Ruido – JPEG, PDF
Risk among Hispanic Workers – JPEG, PDF; Caídas mortales: El riesgo para los trabajadores hispanos es alto – JPEG, PDF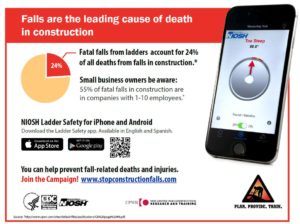 Leading Cause of Death (Ladder App) – JPEG, PDF; Las caídas son la causa principal de muerte en la construcción (Ap de Escaleras) – JPEG, PDF