Interested in joining the Campaign? Learn how to Get Involved!
The Campaign to Prevent Falls in Construction began in 2012 with construction industry stakeholders seeking a way to raise awareness. Falls from heights are the leading cause of injuries and fatalities in construction, with those coming disproportionately from small residential construction contractors.
Falls kill – they are the top cause of construction fatalities and account for one-third of on-the-job injury deaths in the industry. Each year in the U.S. more than 200 construction workers are killed and over 10,000 are seriously injured by falls.
The goal of this national campaign is to prevent fatal falls from roofs, ladders, and scaffolds by encouraging residential construction contractors to:
• PLAN ahead to get the job done safely.
• PROVIDE the right equipment.
• TRAIN everyone to use the equipment safely.
Since the inception of the campaign, a new piece has been added: the National Safety Stand-Down.  For information about how to conduct a stand-down, check out the Stand-Down page.
Campaign Sites & Information
SAVE THE DATE: 2021 Safety Stand-Down will take place May 3-7!
Videos & On-Demand Webinars
Great for virtual Stand-Downs, the webinars include Q&A sessions that can be used to start a discussion about fall prevention and protection on your job sites.
Written Fall Protection & Rescue Plan – Our generic template is now available in Spanish!
Small Contractors: Plan. Provide. Train – A section with easy to use resources and tips for smaller contractors, in English and Spanish.
Data Bulletin: New Trends of Fatal Falls in the Construction Industry
Make the case for focusing on falls.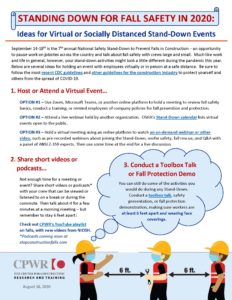 Looking for ideas to safely participate in the 2020 Safety Stand-Down? Use this resource, Standing Down for Fall Safety in 2020: Ideas for Virtual or Socially Distanced Stand-Down Events , to jump start your activities.  This planning document will be updated as new resources from CPWR, NIOSH, and OSHA become available.
Don't forget to check out the One-Stop Stand-Down Shop for more resources!
2020 Social Media Posts
In order to assist participants with promotion of the Falls Campaign and associated Safety Stand-Down, CPWR has developed a short list of social media messages, including links and images, that can be used as written or edited to create your own tweets and posts. Don't forget to use #StandDown4Safety and tag us!