Stand-Down Plan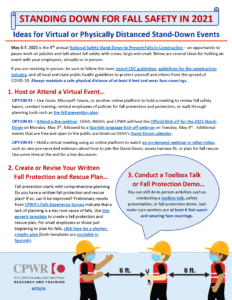 Looking for ideas to safely participate in the 2021 Safety Stand-Down? Use this resource, Standing Down for Fall Safety in 2021: Ideas for Virtual or Socially Distanced Stand-Down Events , to jump start your activities.  This planning document will be updated as new resources from CPWR, NIOSH, and OSHA become available.
Don't forget to check out the One-Stop Stand-Down Shop for more resources!
2021 Social Media Posts 
In order to assist participants with promotion of the Falls Campaign and associated Safety Stand-Down, CPWR has developed a list of social media posts tailored by platform, including links and images, that can be used as written or edited to create your own tweets and posts. Don't forget to use #StandDown4Safety and tag us!