Stand-Down Nacional Dedicado a la Seguridad para Prevenir las Caídas: Seminario web en español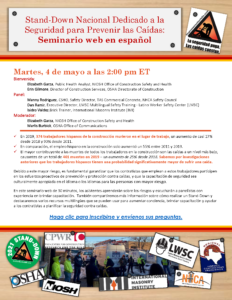 Martes, 4 de mayo a las 2:00 pm ET — Stand-Down Nacional Dedicado a la Seguridad para Prevenir las Caídas: Seminario web en español
En 2019, 374 trabajadores hispanos de la construcción murieron en el lugar de trabajo, un aumento de casi 27% desde 2018 y 90% desde 2011.
En comparación, el empleo hispano en la construcción solo aumentó un 55% entre 2011 y 2019.
El mayor contribuyente a las muertes de todos los trabajadores en la construcción son las caídas a un nivel más bajo, causantes de un total de 401 muertes en 2019 – un aumento de 25% desde 2018. Sabemos por investigaciones anteriores que los trabajadores hispanos tienen una probabilidad significativamente mayor de sufrir una caída.
Debido a este mayor riesgo, es fundamental garantizar que los contratistas que emplean a estos trabajadores participen en los esfuerzos proactivos de prevención y protección contra caídas, y que la capacitación de seguridad sea culturalmente apropiada en el idioma o los idiomas para las personas con mayor riesgo.
En este seminario web de 30 minutos, los asistentes aprenderán sobre los riesgos y escucharán a panelistas con experiencia en brindar capacitación.  También compartiremos más información sobre cómo realizar un Stand-Down y destacaremos varios recursos multilingües que se pueden usar para aumentar conciencia, brindar capacitación y ayudar a los contratistas a planificar la seguridad contra caídas.
Bienvenida:
Elizabeth Garza, Public Health Analyst, NIOSH Office of Construction Safety and Health
Erin Gilmore, Director of Construction Services, OSHA Directorate of Construction
Panel:
Manny Rodriguez, CSHO, Safety Director, TAS Commercial Concrete, NHCA Safety Council
Dan Ramir, Executive Director, LWSC Multilingual Safety Training – Latino Worker Safety Center (LWSC)
Isidro Valdez,Brick Trainer, International Masonry Institute (IMI)
Moderador: 
Elizabeth Garza, NIOSH Office of Construction Safety and Health
Marlis Burbick, OSHA Office of Communications
Haga clic para inscribirse y envíenos sus preguntas.