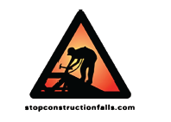 Step 1: Plan
Planning to prevent a fall starts when you are estimating the cost of a job. 
Here are some questions to think about to get you started.
1. What fall exposures are expected? 
Deck or floor integrity (underside of deck, points of 

possible failure due to corrosion, etc.)

Roof edge exposure where parapets are not at least 

39″ high

Holes, skylights, hatches, or skylights openings

Loading/offloading, material handling, access points

Ladders (set up or take down, climbing up and down, using to perform work)

Scaffolds (climbing onto, using to perform work)

Open-sided ramps, floors or other walking/working surfaces, etc. with unprotected edges/sides

Job-related material handling trip hazards

Roof and other material loading and off loading

ATV or other motorized equipment use

Penthouse (access, work in a small area)

Conduit or other piping (gas, water)

Other (describe) 
2. What fall protection will be used? 
Guardrail system (GRS)

Scaffold w/guardrails

Scissor lift

Personal fall restraint system

Personal fall arrest system (PFA)

Covers for holes and openings

Safety Monitor with warning lines

Safety Monitor on roofs <50' in width

Guardrails system with toe board

Horizontal life lines

Roofing slide guards (used with PFA, GRS or SNS)

Catch platform

Safety net system (SNS)

Warning line (low slope roofs only – 4 in 12 [or 4:12] or less)

General awareness training (describe) 

Other (describe) 
3. Specifically, who will ensure the proper inspection, use, set up, and take down of fall protection? 
4. How will drop hazards/falling objects be prevented?
Inspect and protect for overhead holes/gaps

Set up a restricted area below overhead work

Tether tools and materials where possible

Properly store tools, materials and refuse at 

heights

Hoisted materials to be secured/netted

Other (describe)
5. If a worker falls: 
       a) How will the fallen worker be rescued?
       b) Who will be contacted in the event of an emergency?
Click Here

to download a simple form to develop your Fall Prevention Plan

.
Click Here

to download your Daily Job Site Checklist for Recognizing and Preventing Falls
If you are ready to create a more detailed plan,

 click here.