Stand-Down Successes 2015
Six State OH Surveillance Programs Supporting the Campaign to Prevent Falls in Construction
The National Institute for Occupational Safety and Health (NIOSH) supports state health departments and universities to develop and maintain ongoing occupational health surveillance programs and activities. They then share this information and promote public access to occupational health outputs produced by the states through a State-based Occupational Health Surveillance Clearinghouse. Through this process, NIOSH has received some great information on the 2015 stand-down activities of several different states.  Activities ranged from hosting speakers and conducting fall prevention training to widespread email outreach and new resource creation. Read about the successful events and efforts that happened in Kentucky, Oregon, New York, Massachusetts, Washington, and Iowa here.
Kentucky Labor Cabinet, Department of Workplace Standards Safety Stand-Down 2015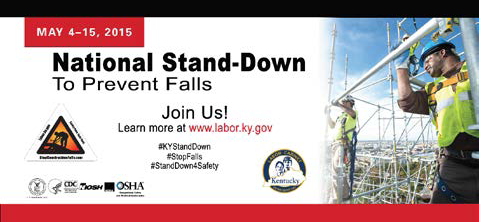 The Kentucky Labor Cabinet's Occupational Safety and Health (OSH) Program enjoyed a comprehensive and very successful 2015 Fall Prevention Campaign that concentrated on raising awareness of fall hazards, collaboration with partners, training, and a 2 week long Stand-Down in conjunction with OSHA's National Stand-Down. Read about their efforts here.
US Air Force 2015 Report
This report summarizes the worldwide Air Force activities held during 2015 Fall Protection Focus Weeks sponsored by Air Force Ground Safety. This effort was developed in support of the Occupational Safety and Health Administration and National Institute for Occupational Safety and Health's campaign, "National Safety Stand-Down," and reached 1,542,912 total individuals. Read the rest of the report here.
NIOSH FACE 2015 Activities
The National Institute for Occupational Safety and Health (NIOSH) Fatality Assessment and Control Evaluation (FACE) program is a research program designed to identify and study fatal occupational injuries. The goal of the FACE program is to prevent occupational fatalities across the nation by identifying and investigating work situations at high risk for injury and then formulating and disseminating prevention strategies to those who can intervene in the workplace. NIOSH FACE is currently targeting investigations of deaths associated with machinery, deaths of foreign born workers, energy production, and falls in construction.
Currently, nine State health or labor departments have cooperative agreements with NIOSH for conducting surveillance, targeted investigations, and prevention activities at the state level using the FACE model.  Falls in construction is one of the program's current focuses, all 9 of the active FACE states have been extremely engaged in the National Campaign to Prevent Falls in Construction.  Read more about their participation in the 2015 Campaign and specific Safety Stand-Down activities in this document.
Ryan Companies
Ryan Companies US, Inc. is a leading national commercial real estate firm offering development, architecture & engineering, construction, real estate management, and capital markets to customers.  Minneapolis-based Ryan puts an extreme emphasis on jobsite safety and they make it their number one priority to send every worker home to their families at the end of every day.  In addition to making a daily effort to improve the safety of their workers, during the month of May 2015, Ryan participated in the two-week National Fall Protection Stand Down. The two-week Occupational Safety and Health Administration (OSHA) Stand Down event was held on jobsites across the US and reached approximately 2,500 individuals. Click here to read about one Minneapolis, MN event that took place at a $400 million, five block project jobsite.
Doran Companies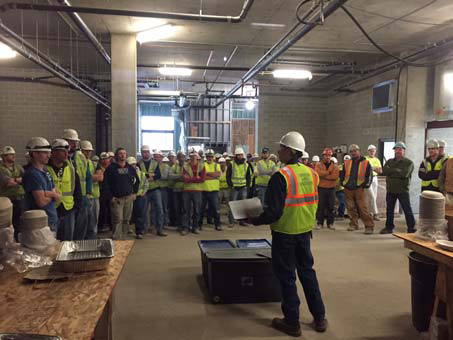 During a May 4, 2015, OSHA Safety Stand-down event at a Minneapolis construction site, Andy Smoka, safety consultant principal at Minnesota OSHA, happened to notice an individual working at elevated heights on Doran's construction site nearby. Upon closer inspection, Smoka noticed the employee was using the proper fall protection and doing everything exactly right to prevent falls.  Smoka then placed a phone call to the site superintendent for Doran Companies to recognize their safety efforts and inform them about the current National Safety Stand-down campaign to prevent falls in construction.  The folks at Doran were excited about the idea to conduct a safety stand-down event at their site to reiterate the importance of fall safety for their company and subcontractors. Read about their May 13th event here.