Day One: Monday
Share real life stories! Use examples of contractors who are doing fall protection right, or alternately, of workers who have been injured or killed in a fall to drive the message home.
Videos –
Download Video (right click & save)
Check out CPWR's Fatality Maps – interactive maps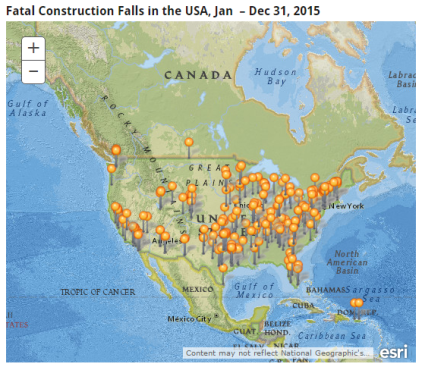 pinpoint fall-related fatalities across the US and share news reports and information about those killed.
 The National Institute for Occupational Safety and Health (NIOSH) and State Fatality Assessment and Control Evaluation (FACE) Reports and Products –
Investigations conducted through the FACE program allow the identification of factors that contribute to these fatal injuries. This information is used to develop comprehensive recommendations for preventing similar deaths. Below is a list of fall-related FACE reports.
Success Stories from the 2015 Stand-Down – Share examples of organizations, worker safety groups, construction companies, and other stakeholders that engaged in last year's stand-down and produced results.