ACTA Safety Two Week Training Initiative in the Greater Phoenix, AZ area
ACTA Safety has begun a two week training initiative in the Phoenix, AZ area. They hope to reach at least 100 workers by the end of the week, educating workers on both the dangers of falls and heat awareness, with training materials being provided in both English and Spanish. The training is at various Maracay Homes Communities in the Phoenix, AZ area.
The training began this morning, June 4th. Below is a photograph of workers gathered to watch a training video.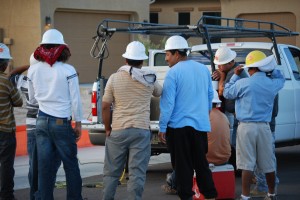 Are you holding an event that uses Fall Campaign materials? Need materials support or want to be featured on the blog? Email falls@cpwr.com and we'll help you out.