2020 Stand-Down Plan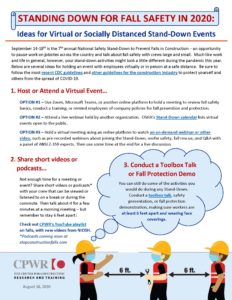 Looking for ideas to safely participate in the 2020 Safety Stand-Down? Use this resource, Standing Down for Fall Safety in 2020: Ideas for Virtual or Socially Distanced Stand-Down Events , to jump start your activities.  This planning document will be updated as new resources from CPWR, NIOSH, and OSHA become available.
Don't forget to check out the One-Stop Stand-Down Shop for more resources!
2020 Social Media Posts
In order to assist participants with promotion of the Falls Campaign and associated Safety Stand-Down, CPWR has developed a short list of social media messages, including links and images, that can be used as written or edited to create your own tweets and posts. Don't forget to use #StandDown4Safety and tag us!