Stand-Down 5 Day Plan
There is no one way to hold a stand-down, so please feel free to get creative and do what works for your employees and jobsites.  For even more resources and ideas, visit stopconstructionfalls.com.
Click here to download a print version of this plan to share as a handout.
MONDAY – MAKE THE CASE FOR FOCUSING ON FALLS
Despite the risk of a fall being so high, and many workers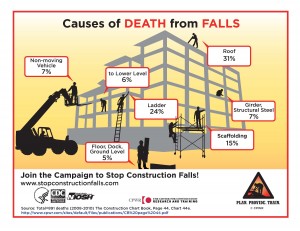 having seen a severe fall firsthand, some may still feel that they are not at risk for falls, or that "it can't happen to them." Using real life stories and statistics can help bring the Stand-Down home.  Once workers have accepted that the risk is real for them, they will be interested in participating in training and the other activities below.  Ways to make the case for focusing on falls include:
Use stories of your own experiences or those of others on your jobsite who experienced or witnessed a fall resulting in injury or death.
Use CPWR-NIOSH Infographics to share statistics on fall risk.
Check out CPWR's Fatality Maps – interactive maps that pinpoint fall-related fatalities across the US and share news reports and information about those killed.
Use NIOSH & State Fatality Assessment and Control Evaluation (FACE) Reports and Products –
Investigations conducted through the FACE program allow the identification of factors that contribute to these fatal injuries. This information is used to develop comprehensive recommendations for preventing similar deaths. A list of fall-related FACE reports can be found on com.
TUESDAY – REVIEW: USING THE PROPER EQUIPMENT FOR THE JOB
Now is a good time to survey your jobsite and talk with your workers to determine:
Are you using the right equipment for each job? Are ladders being used when a scaffold would be safer?
Are all workers equipped with the correct PPE for the job they are doing? Unsure of which fall protection is best suited for your job and workers? The online tool, Fall Protection Resource for New Home Construction describes over 150 fall prevention devices.
Is the equipment in good working order? Consider inspecting all ladders, scaffolds, PPE, and other equipment and removing defective pieces from use.
Use the inspection of the equipment and personal fall arrest systems as an opportunity to reinforce fall safety lessons with workers and answer any questions they have. Make sure they understand proper use of all equipment and know how to don their PPE.  Try using the NIOSH ladder app to make sure ladders are being used correctly. Allow them the opportunity to speak up without consequence about anything making them feel unsafe.
WEDNESDAY – CONDUCT FALL SAFETY TRAINING
Training can take a variety of formats and the resources on stopconstructionfalls.com can support whichever method you choose.  Here are some suggestions:
THURSDAY – CONDUCT A FALL PROTECTION DEMONSTRATION
Have a contractor representative, supervisor, on-site safety professional, or guest expert demonstrate how to properly fit, wear, and use fall protection.  The following resources provide tips:
Fall Protection Harnesses Hazard Alert – a one page illustrated document on how to wear harnesses properly.
Also available in Spanish (Español)
Personal Fall Arrest Systems Brochure – a handout with illustrations for residential workers on how to use a personal fall arrest system properly (MA Dept. of Public Health).
Also available in Spanish (Español) and Portuguese
7 Steps to Ladder Safety– a one page graphic illustration on how to use a ladder safely
FRIDAY – PROVIDE TAKE-AWAYS TO REINFORCE FALL SAFETY LESSONS
Use the final day of the Stand-Down to ensure that the lessons learned stick with workers going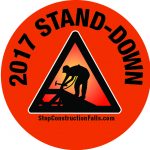 forward:
Provide Hazard Alert cards. These small pocket cards or one-page PDFs contain key information for workers about a particular hazard and how to protect themselves. Several fall related Hazard Alerts can be ordered or printed at http://stopconstructionfalls.com/handouts-for-workers/.
Hand out Hardhat Stickers. CPWR has 2017 hardhat stickers available to order on stopconstructionfalls.com.
Print Certificates of Participation from OSHA. Employers will be able to provide feedback about their Stand-Down and download a Certificate of Participation following the Stand-Down.
Share your Success Story.  Fill out our Success Story Submission Form or email falls@cpwr.com with details and photos from your event(s). If you give us permission, we may feature them on stopconstrucionfalls.com or in other publications.