2016 Stand-Down: Getting Ready
                Join the Safety Stand-Down to Prevent Falls in Construction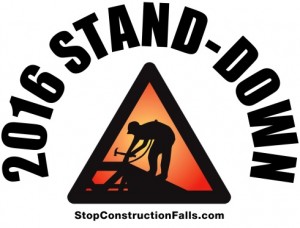 Join us the week of May 2-6 in bringing attention to fall hazards on the job site.  The Safety Stand-Down is currently in its third year and gaining momentum as we gear up for 2016. Last year's Stand-Down was a tremendous success, reaching more than 2.5 million workers – and we're hoping to reach even more in 2016.  The Stand-Down provides an opportunity for employers to talk directly to employees about the risk of falls, protective methods, and the company's safety policies, goals and expectations.  Companies can participate by stopping work and providing a focused toolbox talk on fall prevention, conducting equipment inspections, demonstrating fall protection and procedures, or any number of other activities that educate workers on fall hazards and solutions.  For more information on the history of this event and how you can participate in 2016 check out our webinar featuring presentations from CPWR, NIOSH, and OSHA leadership.  To read more about how companies have participated in past Stand-Downs, check out Success Stories highlighting the actions of particular states, organizations, and companies in 2014 and 2015.
As a campaign partner, Harness, a company that provides modern solutions for managing safety and health, developed a new mobile app that gives contractors and workers easy access to Stand-Down materials from stopconstructionfalls.com and beyond while on the jobsite.  The app also allows users to share activities and post photos from their stand-downs.  Download it through the Apple or Android app stores, or at nationalsafetystanddown.com.
Thinking about participating in the 2016 Stand-Down?  Check out our Day-by-Day plan to get started.
Promote the Stand-Down and let workers know your company is participating with new 2016 posters and videos from OSHA.
2016 OSHA Campaign Poster – English; Spanish (Español)
2016 OSHA Stand-Down video – English; Spanish