Join the Safety Stand-Down to Prevent Falls in Construction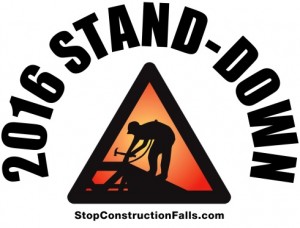 The Safety Stand-Down is currently in its third year and gaining momentum as we gear up for 2016. Last year's Stand-Down was a tremendous success, reaching more than 2.5 million workers – and we're hoping to reach even more in 2016.  The Stand-Down provides an opportunity for employers to talk directly to employees about the risk of falls, protective methods, and the company's safety policies, goals and expectations.  Companies can participate by stopping work and providing a focused toolbox talk on fall prevention, conducting equipment inspections, demonstrating fall protection and procedures, or any number of other activities that educate workers on fall hazards and solutions.
For more detailed information on how companies have participated in past Stand-Downs, check out Success Stories highlighting the actions of particular states, organizations, and companies in 2014 and 2015.