Success Stories
Multi_Organization Public Service Initiative a Success for Falls Campaign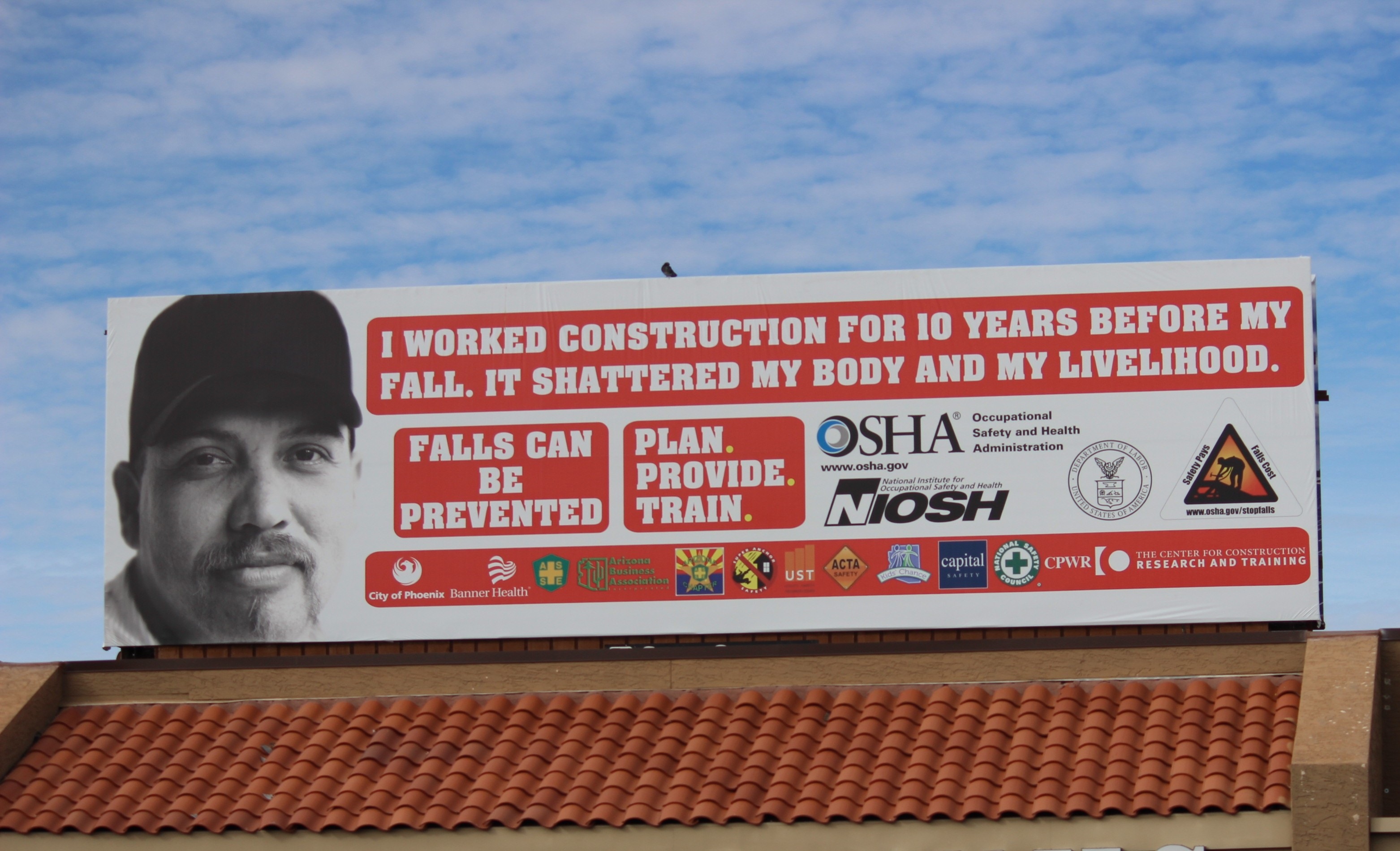 Thanks to partners in Arizona, two billboards featuring the campaign's message have been erected in Pheonix, AZ. The partners: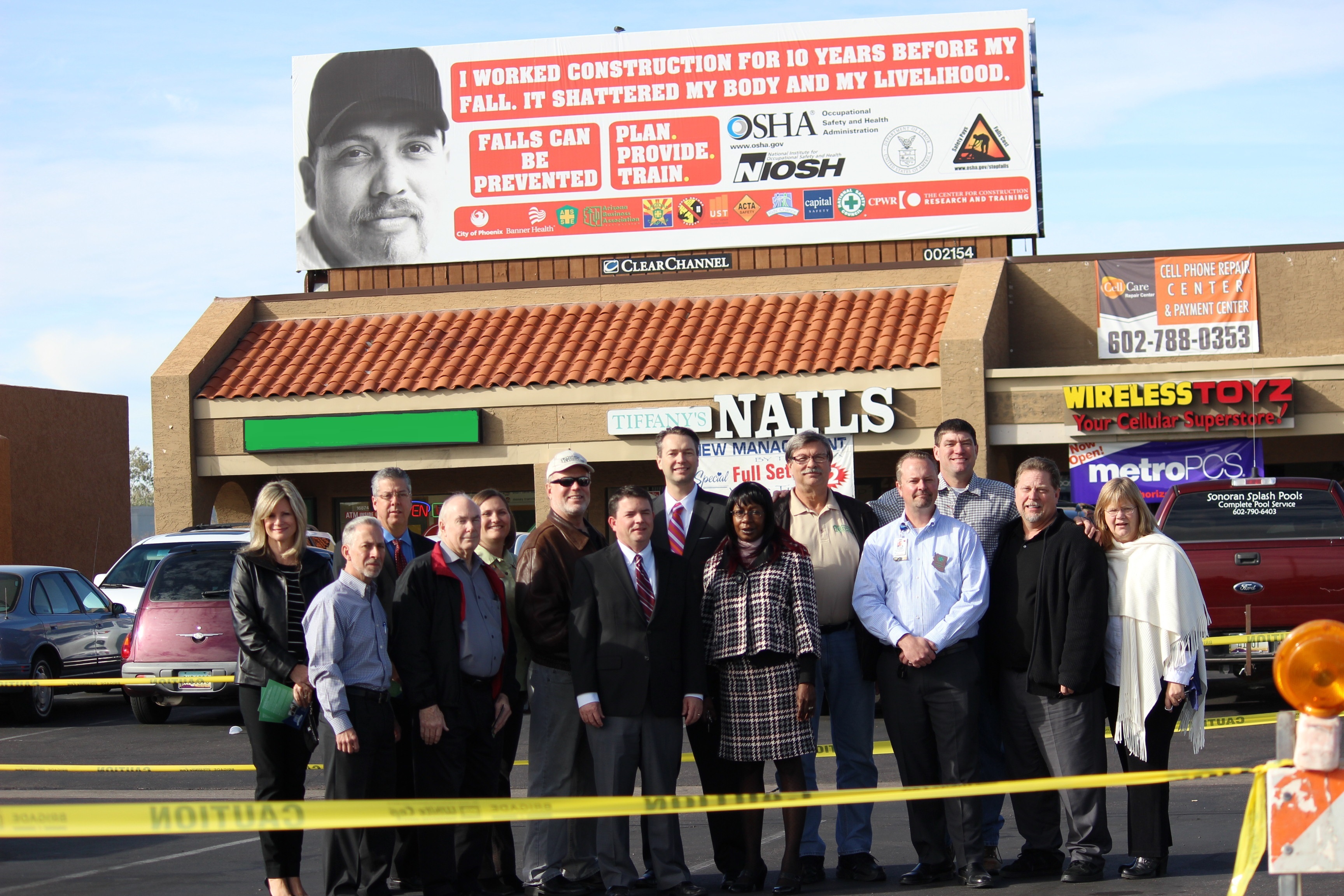 Kentucky Campaign to Prevent Falls in Construction
Campaign partner Kentucky Labor Cabinet, Department of Workplace Standards have released their campaign successes into a PDF. The Kentucky Labor Cabinet developed flyers on different topics on preventing falls in construction, which addressed aerial lifts, personal protective equipment, scaffolds, to name just a few of the topics. The campaign message was also promoted through the Kentucky Labor Cabinet's social media outlets and on their web page. Read more about their efforts here.
Massachusetts Campaign to Prevent Falls in Construction
Falls campaign partner Massachusetts Department of Health, Occupational Health Surveillance Program's story of the fall campaign and how they have worked to reach construction workers is now available as a PDF. The Massachusetts Department of Health was able to team up with local transit to get campaign posters on buses, work with permit offices to distribute campaign information, and provide fall protection training to 350 at-risk roofers, free of charge. Read the story of their successes here.
North Carolina Agricultural and Technical State University Radio PSA
North Carolina Agricultural and Technical State University (NCAT) radio station, WNAA 90.1 will be airing a PSA regarding falls in construction. The spot, produced by NCAT student volunteers, targets construction workers to let them know that falls in construction are preventable. WNAA reaches 13 counties between North Carolina and western Virginia, as well as a large national internet following. Listen to it here. 
Montgomery County Public Transit Campaign
Campaign falls poster appears on Montgomery County, Maryland Ride-On buses in March 2013, being the first public transit system to spread the word on the campaign. Thank you to campaign partner Montgomery County Government!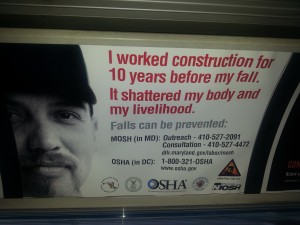 Habitat for Humanity Fall Protection Case Study
Habitat for Humanity is known for its volunteers – many with no knowledge of construction – who help remodel and build new housing for those in need. So the organization takes steps to ensure the safety of its volunteers.
CPWR Researcher Vicki Kaskutas documented the process of incorporating fall protection into the entire building process on a St. Louis Habitat project. Kaskutas tracked the director's collaboration with local businesses and professionals, including a tool rental company, an engineer, and machine shop, then noted all solutions he implemented to construct a two-story home with basement – using fall protection in every situation that arose. Read the case study here.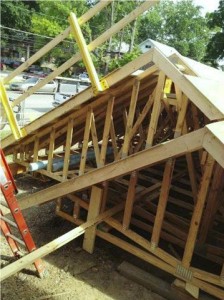 Roof on the St. Louis Habitat for Humanity was built on the ground then lifted into place with a crane. Note use of fall protection for workers finishing the roof: guardrails.
Massachusetts Public Transportation Campaign
A Massachusetts-tailored Campaign poster appears on a subway car in greater Boston. Campaign posters are also up on regional transit bus routes throughout the state. All ad space was donated and posters will run from April – June as part of a multi-layered state-based initiative to promote the Campaign.